Those who have more than one basis for obtaining COVID certificates can choose the type they need
In order to respond to customer requirements, Croatia's EU digital COVID certificate system allows users to choose the type of certificate they want, whether it's a certificate of recovery, a test certificate, or a vaccination certificate, starting January 1, 2022.
Those who have a foundation for multiple types of certificates have had the system offer them the certificate that is most beneficial to them - the one with the longest duration period.
However, in response to the growing number of requests from various Member States for additional testing despite having a valid vaccination certificate or certificate of recovery, the AKD has made it possible for users to select and download specific certificate.
There is no limit on the number of valid EU COVID certificates that can be downloaded. They can still be obtained digitally through the e-Građani or at the official issuing locations.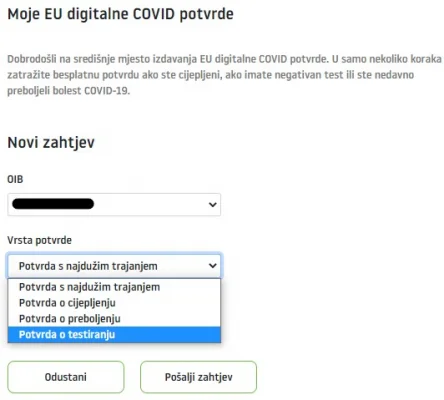 AKD follows to the legislation that govern the issuing of EU digital COVID certificates and swiftly incorporates all new requirements, while also listening to the needs and suggestions of users in order to make the system easier to use. CovidGO, the mobile application, is regularly updated to guarantee the best possible user experience. Citizens use the app to validate certificates and store them in a digital wallet, depending on their needs. It has been downloaded over 500 thousand times.
More than 5 million certificates have been issued in Croatia using the COVID certifications system since June 1st of last year, with no faults in operation.